At Ampulse Energy, we are experienced and Clean Energy Council (CEC) accredited installers, providing quality service for your domestic and commercial solar needs. With 39 years of experience in the electrical field, we began transitioning into the solar industry.
We now have ten years of experience installing solar panels, throughout Brisbane and the surrounding areas. Initially under the name of 'Why Electrical and Solar', we decided in 2020 to become a company focused entirely on solar energy. Before changing our name, Why Electrical and Solar was widely regarded as one of the most affordable Brisbane solar companies and will continue this as Ampulse Energy. If you're looking for quality and affordable solar system installations or repairs, Ampulse Energy is the right choice for you.
Servicing South East Queensland
.
Ampulse Energy is based out of Brisbane, but that is not the extent of our servicing area. Our solar installers will travel to you throughout all Brisbane suburbs,  extending further to Ipswich, the Sunshine Coast, the Gold Coast and Toowoomba and Greater Queensland. Living in the Sunshine State, investing in solar photovoltaic (PV) panels for your home or business is guaranteed to lower your electricity bills.
WHY CHOOSE AMPULSE ENERGY
How Solar Power Saves You Money
Lower Your Electricity Bills
Electricity prices have been on the rise in recent years, and unfortunately, this trend is going to continue.
On July 1 2020, electricity prices throughout Australia are expected to increase by an average of 30%. Across Queensland, households can expect an increase of approximately $200 on their combined electricity and gas rates. Installing a quality solar system is the best solution to help families and businesses reduce power bills by 50-60%.
The Australian Government provides substantial subsidies under the Small-scale Renewable Energy Scheme (SRES) when you choose to install a solar power system. A Small-scale Technology Certificate (STC) can save home or business owners an average $500 per kW off the initial price of their renewable energy system and installation costs, depending on geographical location. 
Solar panels convert light from the sun into electricity, allowing you to use power generated from a free and endless source of energy in your home or business. Living in Queensland, we are fortunate to have sunny days almost all year round. So with the right solar system, your electricity generation may be more than you actually use. Ampulse Energy will assist you in selecting and installing the right solar PV system for your electrical needs. Invest in solar energy today, and see returns within just 3 to 4 years. What are you waiting for?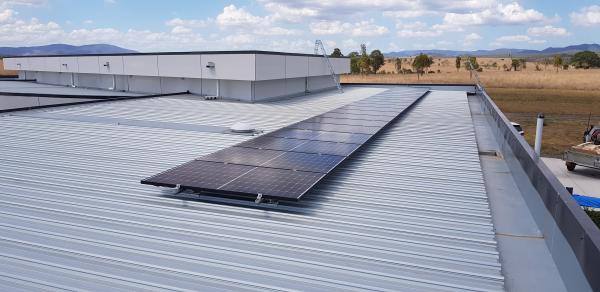 We're Industry Leaders
– Here is how we got there
Ampulse Energy is a company specialising in alternative energy sources. We specialise in the solar industry from domestic, commercial and industrial solar installs. Solar and battery backup systems from grid-connected solar systems to hybrid solar systems and off-grid solar systems. Servicing the greater Brisbane, Sunshine Coast, Gold Coast, Ipswich, Toowoomba and Jimboomba areas and beyond. We have over 35 years of experience in the electrical industry and 10 years in the solar industry. We are your reliable trustworthy and professional solar design & install company. All our solar systems are designed and installed in the house, we do not use subcontractors.
We install and design in house our solar systems, to our client's requirements, from 2kw up to 100kw solar systems. Honest & reliable service give us a call for all your solar requirements. We have solar systems on special, we do great solar deals. Ampulse Energy is the company that is powered by solar and it is time to go solar. Why have large electrical bills when you could be paid for your free solar power? To invest in a great return for your investment power up with Ampulse Energy powered by solar.
Ampulse Energy will take care of all your home's solar needs, including:
Supplying and installing your complete solar system (solar panels, inverters, batteries, etc.)

Installations of any size, on and off-grid

Solar panel cleaning, maintenance and system check-up
You may discover solar panel installation will add resale worth should you choose to move.
Unlike other solar companies around South East Queensland, we don't sub-contract. When you choose Ampulse Energy, the full solar project from quote to completion is managed by Nico and the team.
No matter how big or small, Ampulse Energy will find the right solar power solution for your company's needs. We can:
Design and install custom commercial solutions starting from 10 kW to 100 kW

Help reduce your overheads and improve your bottom line

Create a positive sustainable-energy image for your business
For ten years, we have been providing solar solutions for businesses, schools and community organisations.
Ampulse Energy serves as your business sun-powered specialists.
Our team of electricians are licensed and trained to solve all your electrical problems, including working in toxic or explosive industrial plants. We have:
Over 30 years of experience in the electrical field

Quality service for domestic, commercial and industrial environments

High standards for presentation, ensuring neat and tidy work
At Ampulse Energy, we will always provide honest advice and reliable electricians to get your job done safely and efficiently.
Ampulse Energy offers five main solar packages to suit your home or business's energy requirements and budget: 
Budget Solar Package
Premium Solar Package

Best Premium Solar Package

Star Premium Solar Package

Elite Premium Solar Package (NEW)
In all our packages, we only use TIER-1 solar panels, which comes with 25 years performance warranty. That means they are in the top 2% for manufacturer quality, so you can rest assured that your solar system is the best quality available. 
We can also build a custom package specific to your needs. Our solar electricians take into consideration your current electricity usage and available roof space to determine the ideal solar PV system to suit your budget. We pride ourselves on honesty and integrity to ensure you get the best deal possible with Finance option starting from $24/week. Enquire with us today. Government rebates apply. 
We are
★★★★★

Solar installer
Monday to Saturday: 7am – 5pm
Monday to Saturday: 7am – 5pm